Counting down the days to Christmas is a tradition that many enjoy and the advent calendars are hitting the retailers already! There are also specialty ones that we've got our eyes on — small batch and worthy gifts all around. If you're organized place your pre-orders now to avoid disappointment. There really is something for everyone. Here are a few of our favourites!
SOMA Chocolatemaker Jungle Party Advent Calendar ($85 Can): For the chocolate lover in your life this is next level exquisite. A "very limited" edition collection filled with beautiful chocolates as a wonderful story unfolds with each burrow opened.
Bar from Afar's Making Spirits Bright 12 Days of Cocktails Holiday Calendar ($225 Cdn —  note: pre-sale special offer $200 running until November 4): Brought to you this year in partnership with Burnbrae Farms and North of 7 Distillery. It's the perfect adult holiday cocktail calendar to help you celebrate the most wonderful time of the year! This delicious calendar includes everything you need to build 12 holiday themed speakeasy style cocktails in the comfort of your own home throughout the month of December. It includes all cocktail mixes, spirits and garnishes. This year's edition offers two vodka, rum, gin, tequila and bourbon cocktails as well as one rye, and one pisco cocktail.
David's Tea 24 Days of Festiviteas ($55): This popular calendar is great to give and receive! Discover customer's seasonal favourites, best sellers and merry blends. Includes: Brown Sugar Bourbon, Candy Cane Crush, Calming Chamomile, Christmas Morning Blend, Cranberry Gingerale, Forever Frosty, Glitter & Gold, Guangzhou Milk Oolong, Headache Halo, Hot Chocolate, Jelly Donut, Mother's Little Helper, Orange Spice, Peanut Butter Brownie, Pomegrateful, S'mores Chai, Salted Caramel Oolong, Santa's Secret, Silent Night, Sleigh Ride, Strawberry Rhubarb Parfait, Sugar Pear Fairy, Sweet Potato Pie and Tinsel Toddy. Good for two servings each.
L'Occitane Classic Advent Calendar ($90 Cdn): features the most-beloved beauty and skincare formulas all in sustainable and reusable packaging. This is one we like to gift and receive!
OPI Jewel Be Bold 2022 Advent Calendar ($79): countdown in style with popular OPI Nail Laquer in the season's holly jolly colour palette. Perfectly sized to take along on vacation too!
Wishing You Advent Calendar Sephora Collection ($60): Discover the perfect assortment of makeup, skincare, bath, and accessory surprises in this beautiful Wishing You Advent Calendar.
LEGO Harry Potter ($59.99 Cdn):  for the wizards and even the muggles in your life. This set includes 7 mini-figures and other  magical pieces that help to recreate the classic movie scenes. Once the toys are revealed, use them to play the bonus game.
LEGO Star Wars ($59.99 Cdn): surprise any Star Wars fan with this incredible building set that includes 5 LEGO Star Wars figures, 3 LEGO Droid figures, and 16 mini-builds. Fan favourite characters C-P30 and R2-D2 are dressed in festive sweaters making this a great collectible too!
Merry and Bright 12 Days of Christmas Advent Calendar ($35.99 at Indigo): For puzzle lovers! The Louise Cunningham Merry and Bright 12 Days of Christmas Advent Puzzle Calendar from Galison captures the spirit of the holiday season with twelve whimsical illustrations; one each on twelve 80-piece puzzles. One puzzle a day for the 12 days of Christmas.
Lovehoney — our favourite everything sexy shop has several advent calendars for the bold, daring, and curious. Available are the 24 Day Toy Calendar, 12 Day Toy Calendar (his/her versions) and a sizzling 7 Day Temptations Lingerie calendar. Great savings if you want to explore that vixen side. Stay tuned! We have a give-away coming up!
LUSH COSMETICS: The festive scents of vegan and cruelty-free finds are sure to hit a sweet note for anyone on your list. Replete with all the jolly good finds we know and love from Lush, the Advent Calendar includes 25 vegan products and 2 vintage finds from Lush Christmas past and 2 products that are exclusively available in the '22  Lush Advent Calendar. The reusable gift box is made from recycled paper board and the ribbon is made from recycled plastic bottles.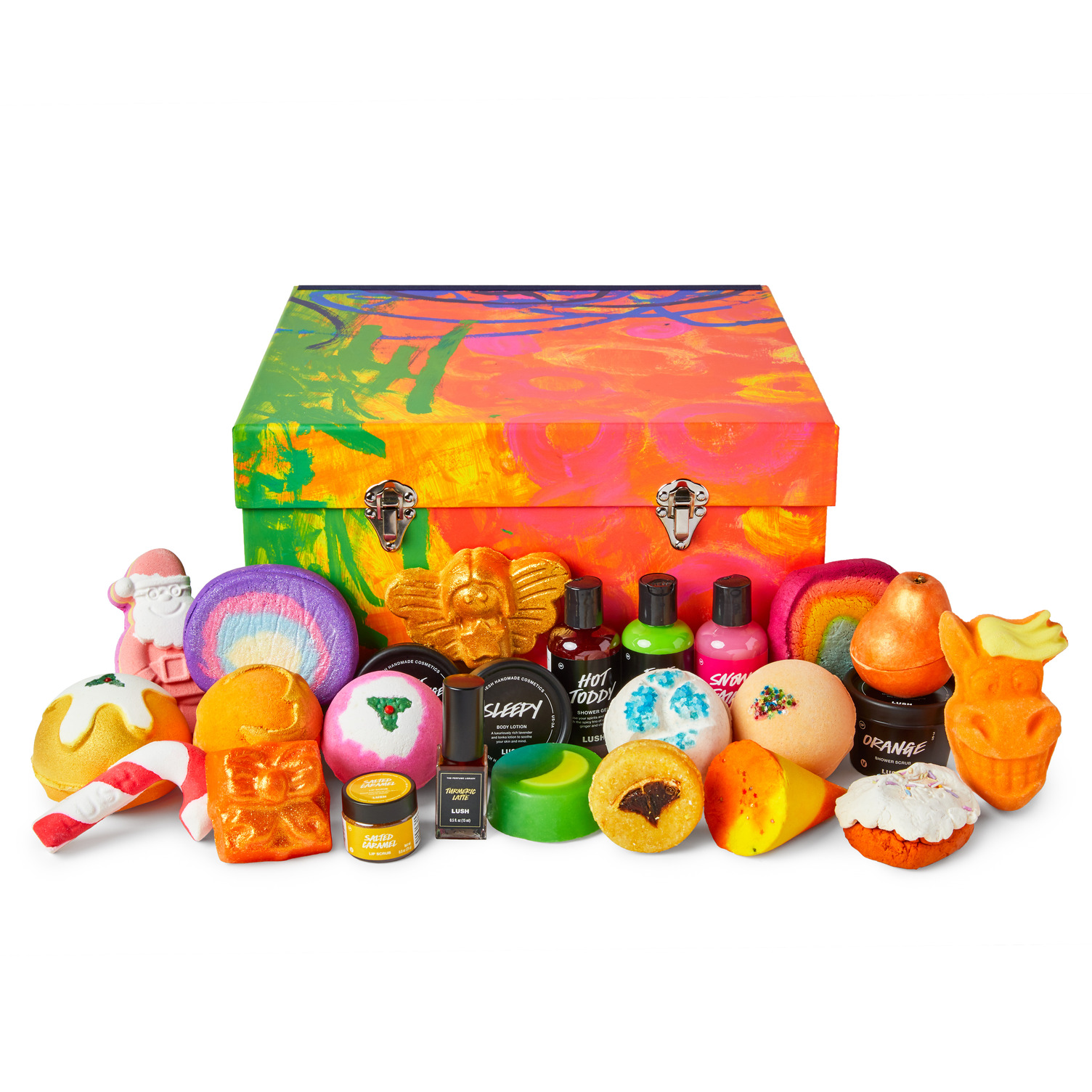 Crystal Advent Calendar by Restless Raven Designs (Etsy $76.99+): For your friends who love to learn more about the healing and magical powers of crystals, this calendar includes 25 different raw and tumbled crystals. Each window reveals a crystal and information. Hand assembled in Canada. Various options available.
Merry & Bright Holiday Toy Calendar for Cats at PetSmart ($19.99): If you're looking for a fun advent calendar for your cat (minus the treats) we adore this 25 days of toys for the curious and playful kitties! PetSmart also has a great assortment of advent calendars for dogs too!