It's been a spell since Toronto has had live music and Budweiser Stage is set to fix that. The quintessential Canadian summer concert experience is all but mandatory, especially after the past few pandemic years. Back, bolder and louder than ever (probably), grab your buds to soak up the sounds of some of the world's finest musical artists.
Kicking off with Zac Brown Band, winding down with Rosalía: MOTOMAMI WORLD TOUR, with Wu-Tang, Keith Urban in between, we spoke with Mike D'Agostini, Senior Marketing Director at Budweiser Canada about what music lovers can expect this summer.
Libby Roach- Tell me about this summer's programming plans. Zac Brown Band killed it last Friday the city was on fire again!
Mike D'Agostini- We're thrilled to have music back in a big way. We have an epic lineup of over 65 concerts between May and September, a record-breaking season of live music. We're excited to get back down and get friends together at Budweiser Stage. Zac Brown Band has a huge hit about beer on a Friday night, a perfect way for Bud to kick things off with live music and friends. It's such a great place to see a live concert.
LR- It's a record-breaking year for Budweiser Stage. 65 concerts is astounding- how do you please everyone? It's like drinking from a firehose of entertainment after a drought!
Md'A- Live Nation does an incredible job queuing up these shows. For us as partners we were super eager and very excited to get back to this amazing venue for live music. Live music in summer in Toronto is the pinnacle of concerts in North America. We're thrilled to have a record number of shows to do that. We have some amazing artists that will grace the stage, in our 5th year of taking over for the name.
LR- It's great to see the support of the city behind you.
Md'A- We always keep the consumer in mind, we pivoted, as most did. bringing Budweiser stage at home a great partnership with rogers and live nation. but we're back, ready for the real thing, nothing beats the Budweiser stage!
CONCERTS ON DECK THIS SUMMER AT BUDWEISER STAGE
LR- Considering the pause, are there any installations or improvements to the venue?
Md'A- There are some amazing new places to get a beer when you're there. Some new bars and restaurants, Lake House, Amex Lounge, and we're doing some unique things – we're installing a Walk of Fame of the amazing artists that have graced the stage. But it's very much the same Budweiser Stage that has been there- and we think it's great as it is. It just needs to the people to be there to make the shows come to life.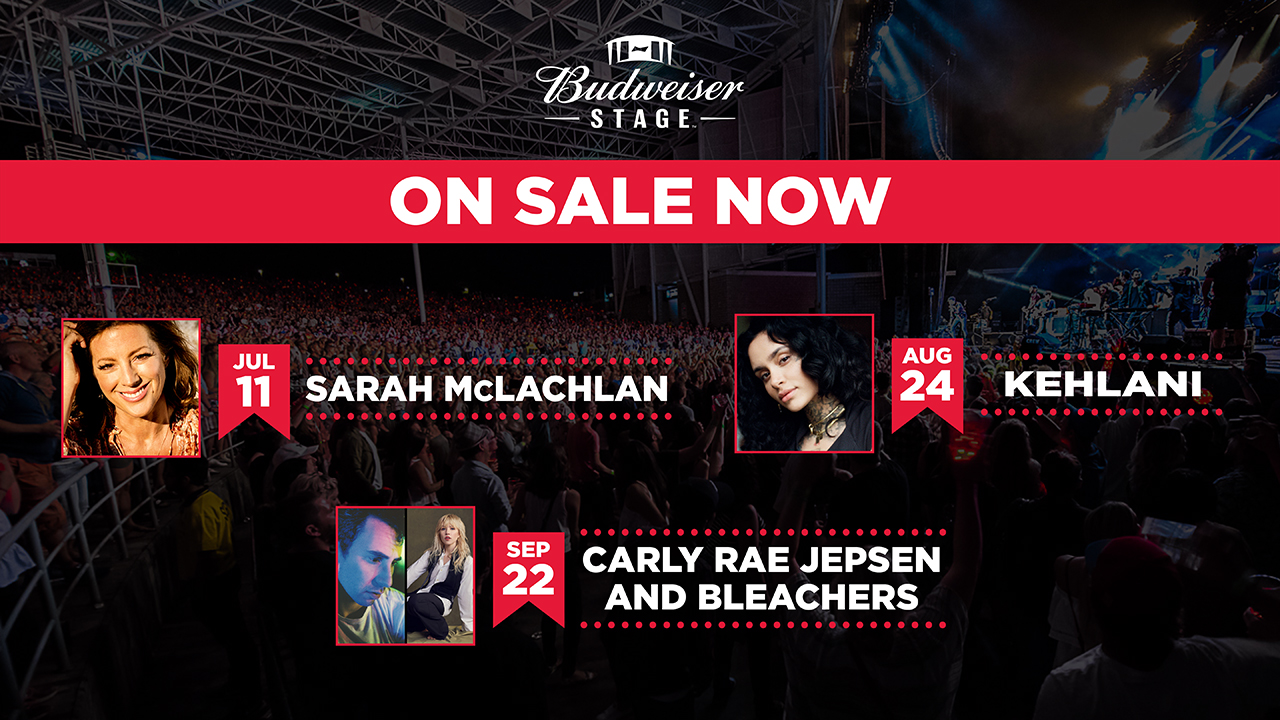 LR- I'll take a country girl approach here and say 'if it ain't broke don't fix it…' are there any concerts you're excited most to see personally?
Md'A- I'm a big country fan so I was so excited to see Zac Brown. The Lumineers I'm also stoked to see, and growing up in the 90s of course the Backstreet Boys– I'm excited to sing along to all their big tunes!
LR- There's always a crowd-pleaser effect – always a throwback band, a country-rock star, a hip-hop weekend, metal, it's so good to hear you didn't break from that script.
Md'A- That's what makes Budweiser Stage so unique. The diversity of talent that goes on the stage really pleases everyone. It's one of a kind!
LR- I'm excited to see the season unfold!
Md'A-celebrating our 5th-year namesake at this venue with 65+ shows already booked, it's an epic time to be in Toronto. Your buds, our stage a record summer of live is what we're promising.
Scope out the full summer concert lineup here. Never drink and drive, TTC is a snap to and from, so leave the car at home. Also take note, that Budweiser Stage is completely cashless.