The Conqueror Challenges ads on Instagram have worked. Add this app to the sandals from Bali I bought, the Halara dress bought at 2am, all from the evil Gram. YES I AM EASILY INFLUENCED BY INSTAGRAM ADS. OKAY? Weed drinks and insomnia are the devil's work.
Winter is coming and we are going to have to find some inspiration to get through it. Covid is back on the rise so I have zero desire to exercise indoors. I don't like winter sports unless Apres counts, so what is a girl to do?
I have returned from a month traipsing through Spain, Portugal and Marrakech just months after knee surgery. Much to my surprise and delight, my old knee did not let me down. My friend and I averaged about 13km a day and except for Morocco, it was all super hilly. Okay, I did get tricked into bouldering up 1800 metres in the Atlas mountains like a wild goat. Even without my compression sleeve , me knee gave no grief. The trip was like a solid year of physio crammed into a month.
Feeling more fit than I have felt in years, I was thrilled to come home to loose clothing too. Like most of us, I had gained the Pandemic Ten over the last couple years. I will be damned if I am going to let the impending Canadian winter set me back now. As much as I adore walking, without a travel partner and exciting destinations to explore, how will I stay motivated?
Once again, I will offer myself and my wallet up to take one for the team. Yup, I signed up for The Conquerer Challenges. If you haven't seen the ads all over Instagram, It's an exercise based virtual race challenge. Meant to spice up your exercise routine and keep you motivated to keep moving, it felt like a solution to my worries. You pick a race challenge, you choose the time frame you think you want to complete it in. You can form a team with friends or other members – or not- and when you are done, they mail you a medal.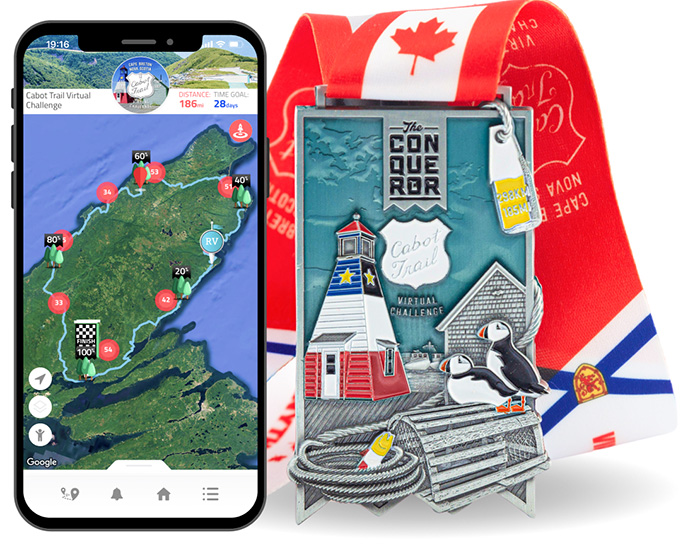 Connecting your fave fitness app to the Conqueror app, it will track your route automatically. You can log in your kms manually and it can convert other forms of exercise into kms, like yoga. It's possible to just use the website but it's more fun to download the app, tracking your kms directly (iOS and Android).
How It Works
First you sign up and then you can shop for a challenge or even a bundle, like I did. Download the app, pay for your challenge and then start. It's pretty simple, just go to your route with the code they will email to you and that will take you to the race page. Then you just walk/run/cycle and get that medal!
There are a ton of race challenges to choose from. The Amalfi Coast route is 56.3km, along the coast, ending up in Sorrento is my first challenge. Okay, I will actually be walking up and down hills in the Beaches in mittens, but that's part of the fun.
I had not uploaded a photo yet, so at the beginning I was just CB. This was before I went for a walk, standing at the start line, wishing I was actually in Italy. Why am I not drinking a negroni with my feet in the ocean instead of wearing a toque and a down vest?
Feeling clever, I am listening to the Big Night soundtrack while I walk to get in the mood. Turns out, lots of people do things like that. They eat at a restaurant that fits with their route when they cross the finish line and kind of make it a bit of a travel experience. For those who aren't ready to venture out in the world to travel yet, this is a cool thing to do.
You can explore your surroundings using the Street View feature. Basically, it looks like Google Maps street view and it's pretty cool. I did that when I was waiting at lights etc. and it helps pass that time.
Day One
Yesterday was my first day, walking 9.7km, which means I completed 17% of the race route. I set my time goal for 21 days and if I keep this daily pace, I will be done way before that but you can change that number anytime.
By bedtime, I was up to 13.1km and 23% because my pedometer kept adding all of my steps throughout the day. I am not doing an actual walk today. Assume that my daily just prancing around the house milage will be added on though. I have to poke around to see if you can change that. Some might only want their actual outdoor walks to count.
Each time you complete a distance based exercise, you advance along the map. As you advance, you meet goals. They send you virtual postcards that tell you about the local spot you just made it to. Each race has a set number of milestones and postcards. I am not sure that this is going to push me to go that extra 2km just to get the next one, but it's a nice touch.
How It's Going
By the end of the walk I figured out out to upload an avatar, so thats me with the white hair and shirt over there. On the right side you have a pull down menu that allows you to keep track of your race settings, choose different activities if you aren't just walking, like me. Just pick your exercise mode (I am only walking but you can also run, bike, add in kms for yoga etc).
You can track your rewards, check your newsfeed to see if you have any new postcards etc. As you can see, I can also track other people who are doing the same challenge. If you are competitive, that might motivate you to beat that old fart from Cotswold who keeps passing you.
I love that the challenges incorporate an environmental incentive as well. When you sign up, you choose to either to have the company plant a tree or recover 10 plastic bottles from the ocean when you reach specific milestones.
People also seem to really loved the community building feature. You can join the Facebook group where participants share their experiences. They also share their progress and celebrate each other's successes together.
My travel buddy is going to sign up when she is finished with her adventure in November. Even though she is in Oregon, we will do a walk together as a team. I am not sure that I will get as much out of the Facebook page, but that is a really personal thing. It's either your thing or it isn't but it's a good resource.

I am hoping that this app is going to keep me motivated to walk after the weather gets colder. Anything that keeps me checking my daily steps has got to help. The longer challenges will keep me engaged for long too.
The Nitty Gritty
The only downside is that these challenges are not cheap. They start at $29.99USD per challenge so I bought a bundle of 3 more ($85.78USD). I can choose anything from those three too. The longer the route, the more they charge so I will pick three of the longest. For $120 USD I think that will get me through the New Year and beyond. Since I am not going to join a gym or sign up for indoor yoga, it seems a more reasonable expense.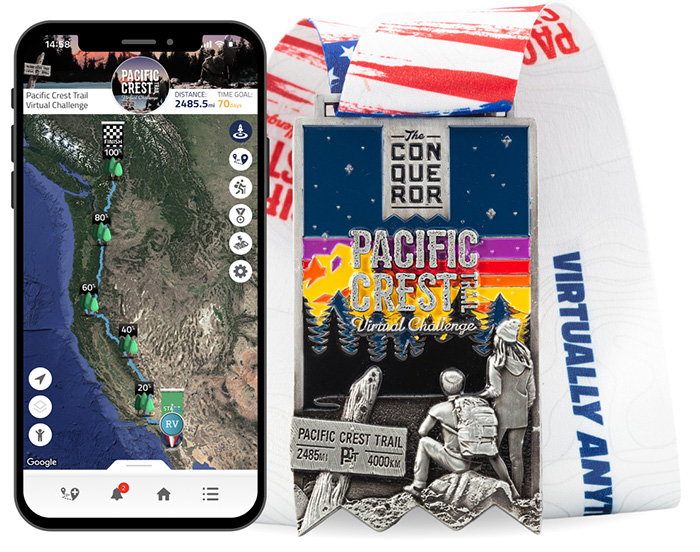 I will choose longer challenges next so I can make my $120 stretch out over the entire winter, If I can. Game the system where you can.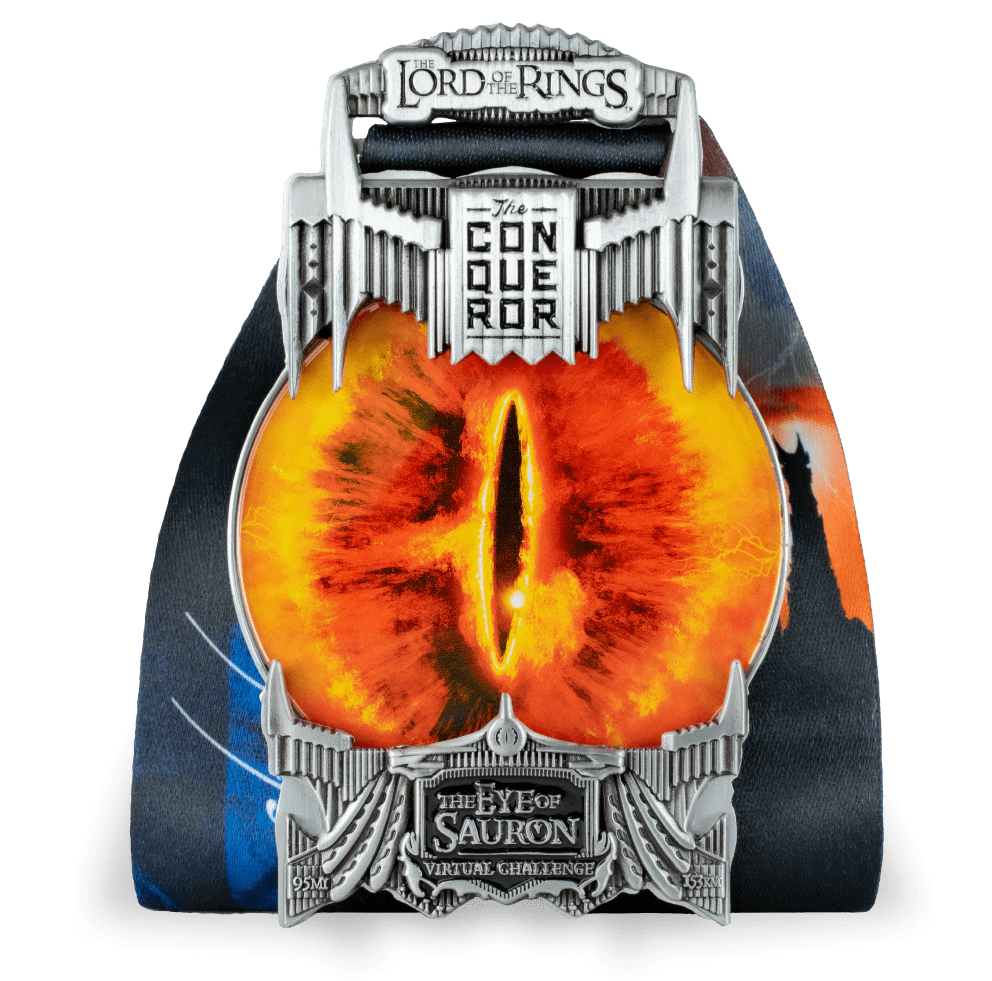 If you want to really go crazy, there is a Lord Of the RIngs Challenge Series – $49.99 USD for one route OR $199USD to do all five. You start in the Shire and end up in Mordor, having to complete one journey to go on to the next. They even send you the One Ring in the envelope with your first medal to carry with you. Come on now.
So, I will check in with weekly progress updates and if any of you want to sign up and make a team with me, I am here for that too! Let me know if there is any interest and I will make an Auburn Lane team.
Ciao, see you next week.