Noon Aesthetics is on a mission. Combining powerful high-strength therapeutic skincare for at-home use presents its own set of unique challenges. Delivering targeted formulas to solve our trickiest skincare concerns is usually reserved under the direct supervision of a dermatologist.
All that is set to change. Newly launched in Canada, Noon Aesthetics is only sold in clinics and medispas. The turbocharged lineup of skincare goodies boasts high-concentration levels of active ingredients.
STEP INTO THE FUTURE OF SKINCARE WITH NOON AESTHETICS
Pairing powerful formulas with everyday products is difficult. Usually, products with higher active ingredients require a supervised approach. Common side effects of peels and creams with higher levels of acid and low PH can trigger unwanted skin issues. Think itching, stinging, inflammation and general discomfort.
These are very typical side effects, but they can inhibit results and detract from the overall treatment. Enlisting a new format to deliver these ingredients therapeutically, DermShield™️ was born. This proprietary breakthrough allows Noon Aesthetic's higher levels of active ingredients to penetrate and perform, without setbacks.
DermShield™️ inhibits chemical-sensitive receptors in the skin which trigger inflammation and is only found in Noon's collection. The products range from cleansers, acids, moisturizers, HA complexes and serums and masks. SPFs are launching soon.
Noon Aesthetics works on several common skin concerns, including:
Sun Damage 🕛 Acne 🕛 Rosacea 🕛 Fine Lines 🕛 Wrinkles 🕛 Aging 🕛 Seborrhea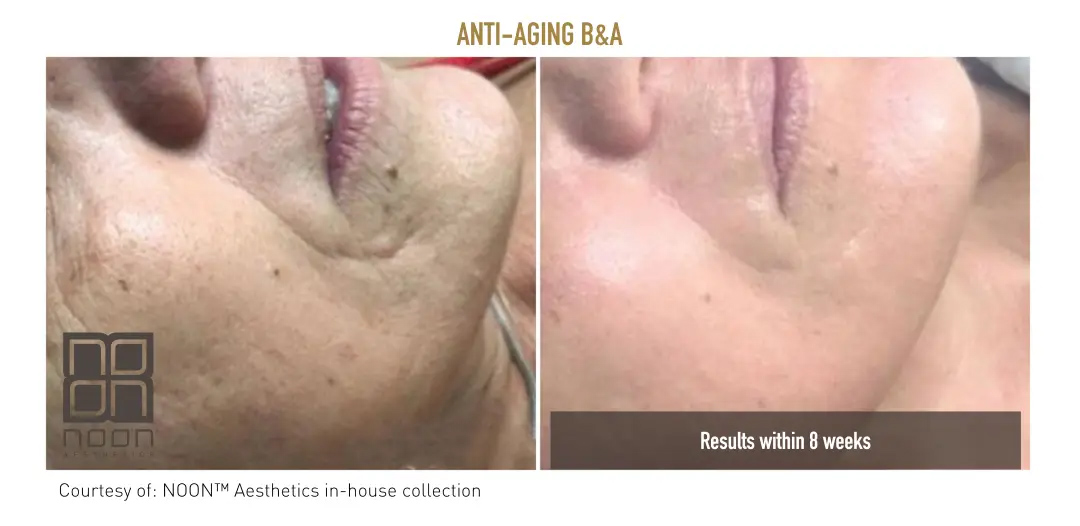 The difference between over-the-counter and buying skincare through a professional is night and day. Turning back the hands of time is certainly an attractive prospect but in reality, we know that's impossible. Setting more realistic expectations and sticking to a good skincare routine serves a better purpose.
Using the same line of products is recommended to maximize results, no matter what brand you're using. Employing the exact science makes sense, there's no point in treating redness and then applying a product that doesn't target the same issue.
Sticking to the same approach, Noon Aesthetics carries complete skincare systems for a myriad of tricky skin issues, with each blend complimenting the next step.
Find out more about Noon Aesthetics and where to shop- https://noonaesthetics.ca/