I've been managing my dark spots for nearly 20 years now. Yes, you may have been following my years of dealing with a skin condition called melasma (aka Mask of Pregnancy). I have tried many treatments to help correct this hyperpigmentation from over-the-counter products to medical grade chemical peels to laser — but always have understood that it will never 100% go away. Some of what I've done has been pretty harsh and I won't be repeating.  So, for me, managing the dark spots means attempting to fade them and keeping them from getting worse. I have successfully had them treated with the dermatologist as well as at several medispas. The latter are costly running between $200 to $700 each visit. But since COVID-19 stay-at-home orders were in place, I couldn't justify going anywhere that wasn't considered an absolute necessity. Now there's a new treatment available and the timing is perfect!  The latest entry into this targeted skincare issue is Dermalogica's PowerBright Dark Spot Serum (launching in Canada on March 25).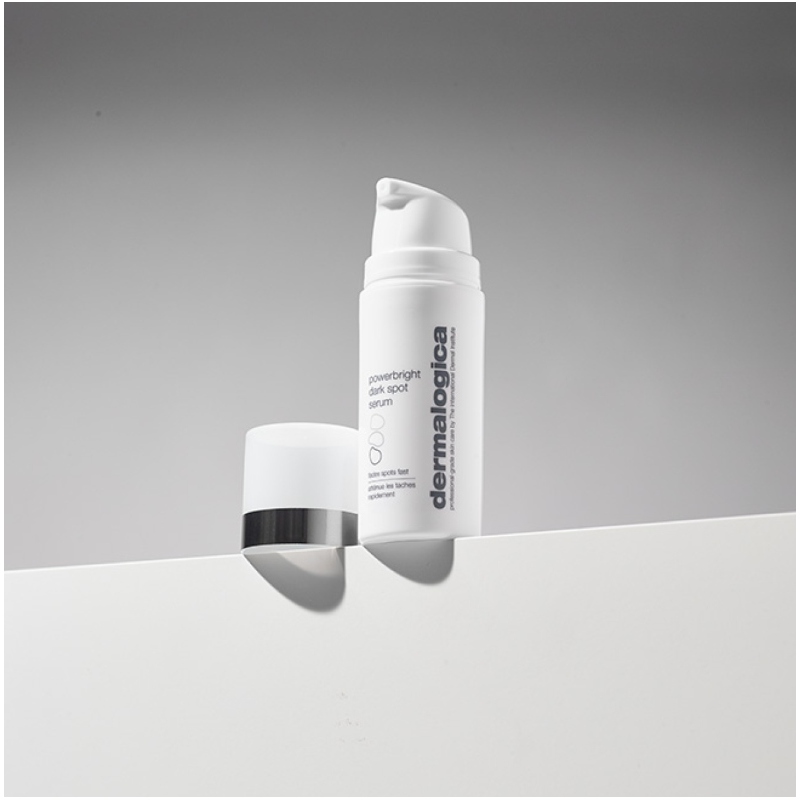 THE CLAIM: This serum fades dark spots to bright in a matter of days. It starts working fast, visibly fading dark spots in just a few days – and keeps working over time to deliver smooth, even-toned skin. It boosts the skin's natural luminosity, addresses melanin accumulation in the skin and safeguards against future damage.
I had a few questions so I wanted to check in with Brooke Anderson, National Accounts Instructor at Dermalogica to find out more.
First, what are the active and high-tech ingredients in this magical serum?
Niacinamide (Vitamin B3 derivative) and Hexylresorcinol help fade dark spots, for brighter, more even-toned skin.
Shiitake Mushroom helps control inflammation in the skin and helps to brighten skin by reducing the concentration of pigment in the skin.
Adaptogenic Ashwagandha, also known as Indian Ginseng, works naturally with the skin to smooth and deliver antioxidant benefits.
Black Currant Oil and Peony Flower smoothes and delivers antioxidant benefits to protect against future hyperpigmentation.
Skin-shielding Actives works to create a film-forming polymer that acts as a shield to help protect the skin from pollution that causes hyperpigmentation.
Light-diffusing technology using Titanium Dioxide and a film-forming polymer, this technology begins to balance the appearance of uneven pigmentation within days.
How do you use this serum?
After proper cleansing and toning, they recommend one pump of the serum applied to the face. Allow for one minute to absorb before applying your moisturizer and SPF to your morning skincare routine.
Are there any other products or ingredients we should avoid using with this serum (e.g. retinol)?
Brooke mentioned that if you have other serums it's best to use them as part of your nighttime skincare routine and keep the PowerBright Dark Spot Serum for the morning.
But I'm tempted to use at night as well! After the first 3 days of using the product, I began noticing the fading of my stubborn dark spots as well as a more even and brighter appearance with my skin tone. I admit I've been eager to double up using it both night and day. However, Brooke mentioned that the product is designed to work on dark spots throughout the day. "The Skin-Shielding Actives working to protect the skin against pollution throughout the day. However, this serum can be used at night too, as long as it is not mixed with or layered on top of any other serums."
Price: $136 CAD for 30 mL
*Photos were taken at the same time of day in the same natural light. No filters were used and no digital corrections. I will continue documenting the progress on my Instagram stories @theculturepearl  if you're interested in seeing the progression as I continue to use this product. Full disclosure: this product was provided to me for editorial review purposes only.