Mother's Day here in North America is celebrated on the second Sunday of May. As a few of our team members here are moms, we can tell you that it's the time together that we enjoy — also the time not to cook or clean. Yes, stereotypical we know but it's true.
🌷 (Ever wonder how the world celebrates mom? We did too….explore the cultural impact of moms around the world here) 🌷
We adore the macaroni necklaces, flower seeds planted in painted pots and handmade cards. Us moms also love the attempt to make brunch or even go out and enjoy a walk under the canopy of cherry blossoms. So, while you consider what to do (or gift) this year with your families, mommy friends, moms-to-be, and dog moms, here are our absolute favourite ideas of the year!
Libby's Picks For Mother's Day:
Exalté Eau de Parfum by Funmi Moment
Funmi Monet's debut perfume Exalté boasts an inner sensuality rarely found in a la carte fragrances. It's got a soul and an ethereal quality, unlike any store-bought scent. Funmi carefully sourced delicate orange blossoms, and jasmine, balanced with pink peppercorns and sandalwood for a sweet, bold and complicated impression, just like the one you (or your mom!) always leave. Available through BellaAura.ca. And if you happened to miss our interview with Funmi, dial back the clock and get caught up here.
Vivier Skincare
Ageing gracefully is where we're at. Yes, we botox and the latest vetted science procedures to keep us fresh are on our own accord. But day-to-day additions and flourishes to our skincare foundation are a bonus. I rely on Vivier's amazingly straightforward system to keep this resting bitch face looking restful.
Ultimage is a revolutionary skin care product by Vivier that prevents and targets fine lines, wrinkles and dehydration. It's proven to take up to 5 years off of your true age in 30 days.
Craig's Cookies
It started as a love letter to his ma. Craig grew up baking cookies with his mom in Newfoundland, proudly baking up treats for family and friends and spending quality time with his mom. Now, it's blossomed into five brick-and-mortar stores in the GTA (and one back in St John's). Stop by and snag a selection – This Mother's Day, Craig pays tribute to his mom with a new flavour: Strawberries and Cream. This bright pink cookie is very cute (and sweet) thanks to the addition of strawberry emulsion and white chocolate chips. Only available for the month of May.
Cricut Maker 3
I am a hardcore crafter, so making things with my Cricut Maker 3 brings me to my happy place. The 'ultimate cutting machine' goes to task effortlessly on everything I dream up. From custom bag tags for hockey to 3D topographic maps of our cottage, there's nothing this machine can't make that I can't dream up. Consider adding a premium access pass to the Cricut Design Space. This app is stuffed with ready-to-go artwork and inspiration for millions of projects, so you can customize anything, literally, and create family keepsakes you'll never let go of.
Columbia Hiking Boot- Women's Facet 75 Mid OutDry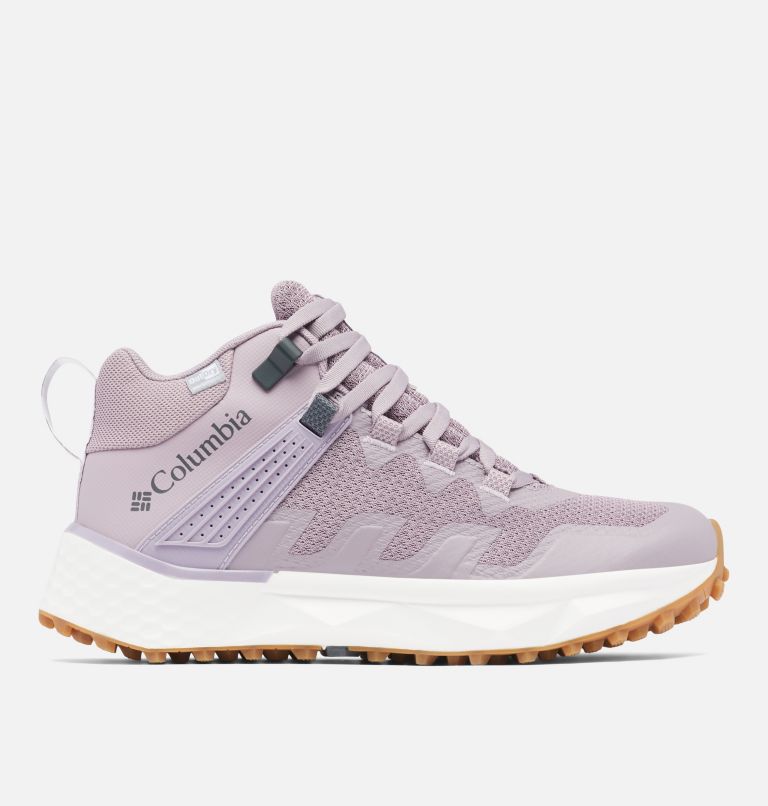 I'm obsessed with hiking year-round and thankfully have access to a nearby ravine system. Whether I'm joining the ladies for champagne in the park at 11, or marching my bulldog through the mud, these pretty mauve boots go with any mood or moment. The extra grips and TPU Heel Clip add extra stability against the cliffs I climb, keeping me upright is a wonderful goal for any outdoor gains. Absolutely waterproof, yet somehow breathable, these boots are meant for hiking, and that's just what I'll do. At Columbiasportswear.ca or in-store.
Sonya's Picks For Mother's Day:
Theatre:
There are many great theatre productions happening from big blockbusters like Hamilton and Tina Turner that are both with Mirvish Productions. But you can also find great gems at more intimate venues. Theatres like Crow's Theatre, The Factory Theatre, and Theatre Passe Muraille are just a few places to look. Aside from plays and musicals, I adore the National Ballet of Canada and its programme. One to watch for is Frame to Frame a collaboration between legendary theatre director Robert Lepage and the incredible choreographer Guillaume Côté.
Another really cool night out is the Candlelight Concert series by Fever. Various music genres are performed live in unique venues across the city and yes, surrounded by candlelight. And last, but definitely not least, That Choir Unplugged is a special concert happening in May to celebrate Mom. The completely acoustic performance (no microphones) will feature 16 singers and will be between 60 – 90 minutes in length. No matter the age, audience members will recognize well-loved folk, pop, rock and roll tunes sung by one of Canada's most exciting vocal ensembles in a relaxed setting.
AGO Membership:
One of the best deals in town for art & history lovers is a one-year membership to the Art Gallery of Ontario. Check out the $35 Annual Pass (ages 26+) that offers a full year of unlimited access to the AGO Collection and all special exhibitions. Currently the Wolfgang Tillmans: To look without fear exhibition is a must-see. BTW if you're 25 and under you can currently get in for free so you can take mom! While you're there enjoy lunch at the AGO Bistro!
Spa Day:
Pampering mom is a no-brainer and there are great places to visit (or revisit!). The Stillwater Spa at Park Hyatt Toronto has wellness in mind in its renovated sanctuary. Always is a treat with spectacular views of the city, The Four Seasons Hotel Spa is a super idea for moms-to-be as well. And the forever city favourite, Elmwood Spa, can help you escape and nourish your mom for a session/half day/full day. Some great signature treatments like the Li'Tya Mala Mayi Whole Body Ritual is a beautiful choice.
Apple Watch:
If mom has an iPhone, this is one device that comes in super handy. It enables the wearer to stay on top of calls, meetings, reminders, and emails on the go. But it also does much more. Track your fitness, monitor health stats, reminds you to be mindful, control your playlist, see who's at your door (via Ring) the list goes on! I've had mine since it launched and found it handy to keep an eye on things even while in meetings or at the movies where I can't pull out my phone to check for messages.
Nathalie's Pick for Mother's Day
Kandl Artistique
For the gift of experience and of exquisite scents, take Mom or mom friends to a class at Kandle Artistique. You will smell your way through top, middle and base notes for your candle and then combine them to make a custom scent. There are two experiences to choose from, the original candle-making class and the new Glowness Lab, so when Mom loves the class (and she will), you have the next gift lined up! I loved every minute of my class, and the gift keeps giving with my scented space when I use my candle. Read more about the class here.
Carole's Picks For Mother's Day:
Ninja Speedi
This multi-cooker is a godsend for the busy moms out there. You can make an entire meal, from starch to protein and veggies, this thing does it all. I have never been shy about my air fryer love but this is like an air fryer on steroids. Go here to read more about how great this Ninja Speedi is.
Skincare
Let's hear it for all the tired moms 😂 Momming is hard work and it can take a toll. Boscia's Triple Hyaluronic and Honeydew Moisture-Boost Gel Eye Masks are the absolute bomb. They add a ton of moisture to that delicate area under your overworked eyes and they feel cool and soothing. Their whole line of eye products are faves of mine. LOVE.
Another good product is Instant Effect Eye Gel by Skinbetter Science. This stuff comes in a tube with a steel roller ball that feels like a cold slap of wake me up under my eyes. It also helps reduce under-eye puffiness, minimizes fine lines and just plain feels amazing.
Book your mom in for a JetPeel. I had one at Hammam Spa in Bayview Village Shopping Centre and I was really impressed. My Shar Pei décolletage was absolutely tighter and softer looking for at least four or five days. This will be my new go-to treatment before any important function where I want to feel my best. It's like a gentle power wash that can target a ton of skin issues that leaves you feeling bright and shiny and new.
Melanie Auld Mama Tag
When you shop the Mama Tag Pendant, 100% of the net proceeds will be donated in support of advancing the full spectrum of women's health in Canada. This pretty tag celebrates mothers and mother figures in our lives some in Sterling Silver and 14k Gold Vermeil and can also be engraved. Melanie Auld is one of my favourite Canadian Jewellers and is my constant go-to for gifting.
A Knix Gift Card
Let your mom treat herself to something pretty from my favourite Canadian company, Knix. From underwear to pjs to swimwear, I am a Knix addict and a gift card is always a hit with me. I may or may not own three of these modal nighties.