I have really terrible nails and cannot do anything to make them look presentable on my own. As I get older, they are soft, bendy and ridged. They split either down the side, far below the growth line or down the middle and can cause discomfort. They tear, they rip and are just, basically, a hot mess. My attempts at gels and acrylics have not been uniformly successful. They look great but when it's time to remove them, i a left with damaged, brittle, split nails. I am pretty sure that might be because I haven't found anyone to patiently remove them properly, but that's another story.
It had never occurred to me to use press on nails. My perception was that they look fake and ridiculous and only come in 6″ coffin shape talons embellished with diamonds. I didn't realize that you could get good quality, natural looking press ons until a friend talked me into trying a set of her Kiss nails for a wedding. They looked real, they lasted for a couple of weeks and, oddly, they seemed to protect my own natural nails from constantly splitting and ripping.
Thus began my press on nail journey and I have finally found the nails for me.
My favourite brands of press on nails:
For style, variety and quality, I love Static Nails. Sadly, they are not sold in Canada, so it means I pay in USD and shipping is not cheap. I only order when I can get a friend or two to go in with me. They are my special occasion nails because their extra short is still too long for me. Luckily you can cut and file them down if you are like me and can't deal with any real length.
If you apply with glue on your own nail as well as the back of the press on nails, you can get two to three weeks of wear from these.
I also bought their brush on glue in a small bottle and that is the glue I use with all the different brands of nail. It's the most gentle and works great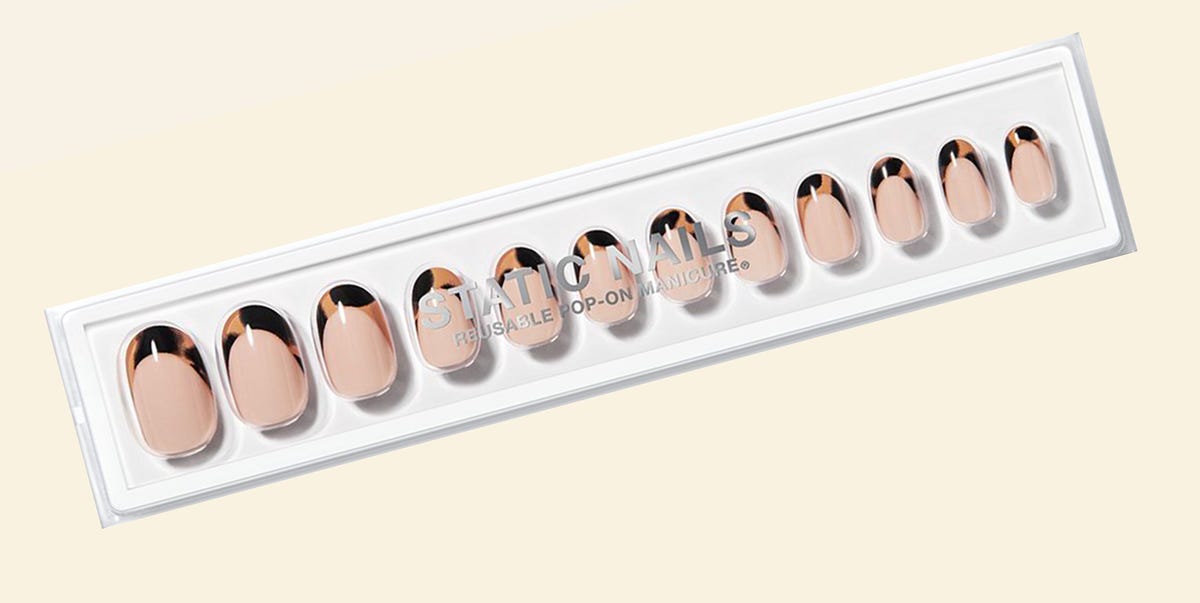 This is a Canadian brand that offers free shipping on orders over $75 so, again, maybe go in with friends if you just want to try them out. Their short sets run between $22 and $24 and come with 24 nails, glue, buffer, file, cuticle pusher and alcohol wipes. I have found sets of crazy long nails but in lovely colours for as little as $8. I can cut them down and file until they are an acceptable length.
Olive and June is everywhere right now. They make popular polishes and also have a line of inexpensive press ons. The nails are whismical, fun and cheap but having to pay for shipping makes them less attractive. Now, as soon as I cross the border I will be buying a whack of them at Target. Again, the extra short is still a bit long for me as well, so these are not my first choice but they are fun. They offer a mani press on kit that include everything you need to prep and care for your own nails plus 4 sets of nails for $80 USD
If you are in the US try to find these at Target and load up!
I am like the three little bears. Static nails are too expensive, Facile nails are too long but Dashing Diva extra short are juuuuuuuuust right. I finally found an extra short nail that doesn't require any cutting or filing. You can also get press ons that require using nail glue, but, this is what I do.

I apply them without out added glue, relying only on the glue backing that comes on the nails. I find that over the next five days, the thumbs will always loosen. When they fall off on their own, I use my glue from Static nails to lightly glue it back on. This way, only a few of my nails have to tolerate the actual nail glue and I still get at least two weeks out of a set. There are enough extras to replace the odd nail with a fresh one as well.
I order four sets every 4-6 weeks and at $13/set, that is still cheaper than getting gels, my nails are not only not destroyed, but I feel like the press on protects them from all that tearing and cracking. These are only available in Canada through Dashing Diva Global and one Montreal shop, By Arianna. By Arianna offers free shipping on orders over $40 and they come really quickly. Order these through By Arianna and make sure to use the first time order code for 15% discount.
I also use Dashing Diva base coat that fills in my ridges and gives a layer of protection that is also $13.99
As a last note:
<- dashing diva extra short on me
Treat press on's as a real manicure. Use cuticle cream, push back your cuticles etc before you apply a new set so that you get the best results.
I also want to make it clear that I have, sadly, paid for all of my nails, glues and treatments over the last two years and am not affiliated with any of these companies but if Dashing Diva needs a middle aged, enthusiastic spokeswoman, they should hit me up!