As a celebrity makeup artist, everybody wants to know how I get stars ready for the red carpet. Firstly, don't assume that I only use the trendiest, high end products. All makeup artist uses a huge array of brands in their kits. We might have a favourite mascara that is a drugstore brand but is the only product we use from that particular line. It's always a combination of high-end, drug store, old faithful that is no longer trendy and a few new treats.
Due to the SAG strike, there won't be big Stars at TIFF this year but I will be working with wonderful Canadian talent and will endeavour to share highlights and juicey, behind-the-scenes stuff, so make sure to keep an eye on Auburn Lane's Instagram.
What Non Makeup Product Would Shock You The Most
If you want smooth, even skin, you should be using primer. Using foundation without it is like painting a wall without sanding it. My favourite primer is Smash Box and I am never without it. That said, I also use a dupe that is a fraction of the price and is basically the same formulation. Monistat Chafing Relief Gel will prep your skin for foundation just as well, giving a matte, silky finish. It is the best budget, drugstore option out there by a mile.
F.Y.I.: This is not the Monistat yeast-infection cream; please don't go rubbing that stuff all over your face. This anti-chafing balm's main ingredient is the same as many foundation primers': dimethicone. It also contains Vitamin E and aloe, and it's fragrance-free and formulated to let skin "breathe. You can't buy it in Canada so you either have to wait until your next trip to the US or get a friend to grab some for you. For years, I would bring back a dozen tubes to give to my makeup artist colleagues. I was like a Monistat pusher. If you like Smash Box, you will love Monistat.
Old School Product But Still The Best Red Carpet Secret Weapon
Even the youngest, most beautiful actors can look tired due to non-stop work, flying and film promotion. Sometimes, concealer is just not enough and you need to bust out the big guns.
This is the most misused product out there but when used properly, it's magic. Touche Eclat (called Radiant Touch in the US because ….French. hard) Yves St Laurent has also come out with a combo pen that is also a concealer, but it's not the same. This stuff goes on top of your concealer/foundation and must be the final layer. If you powder over it, it doesn't work. It is not a concealer, it is a highlighter that goes on top of the concealer.
Basically, you use it to reflect light off of your undereye area – it's like a giant soft box and reflector in a tube. A little bit dotted along the outside of your under eye and then a bit more on the inside of your eye area, patted in until it blends in with your makeup will make you look like are fresh as a daisy. I call it sleep in a tube.
Turn Dry, Crispy Lips into Smooth, Soft Red Carpet Ready Lips
Elizabeth Arden Eight Hour Cream is my magic weapon to use for dry, cracked lips that are on the brink. It's the only product I use from this line but it's been a staple for at least 20 years. I smear some of this stinky, greasy cream onto lips that are cracked to the point of bleeding and continue with their makeup. Within 20 minutes, the lips have absorbed it completely and are soft, supple and ready for lipstick.
It's also great for excema, dry cracked patches of skin during the winter – that is what it is actually made for. They have come out with a lip balm but nothing works like this product. P.S. It stinks.
The Tik Tok Trend That Is Not Too Good To Be True
I am not ashamed to admit that i buy products because of Tik Tok. After 40 years of doing makeup, I can't keep up on every new product or trend on my own. I rely on these youngsters to buy all things so I don't have to. When I first saw the viral Tik Tok video of an older woman using this to tighten up her prominent bags, I laughed. But then I saw videos of dermatologists explaining how and why it actually works. I ordered some. I love it so much I use it on my own face.
This stuff really does tighten the skin and get rid of wrinkles and it lasts all day until you wash it off. That said, it takes practice to get it right. If you use too much product it will leave a chalky white residue so keep trying until you get the hang of it. Caveat #2 – you can't apply just any makeup over it. It's water soluble so I use silicone based concealer with it and use it sparingly. Because it's so good at tightening the skin, I find I don't need much or even any concealer on top if it.
I use Smashbox Skin Flawless Concealer as well as Smashbox primer over it but go very light and use sparingly. This stuff is finicky but it's magic. For reals.
My Last Trick Isn't A Product, It's A Makeup Technique
One of my biggest pet peeves is being able to see skin between the lashes, especially when there is dark liner involved. Everyone's eye is unique and many people have a situation where the upper water line shows all the time. For this eye shape, no matter how much mascara you use, you will always see it.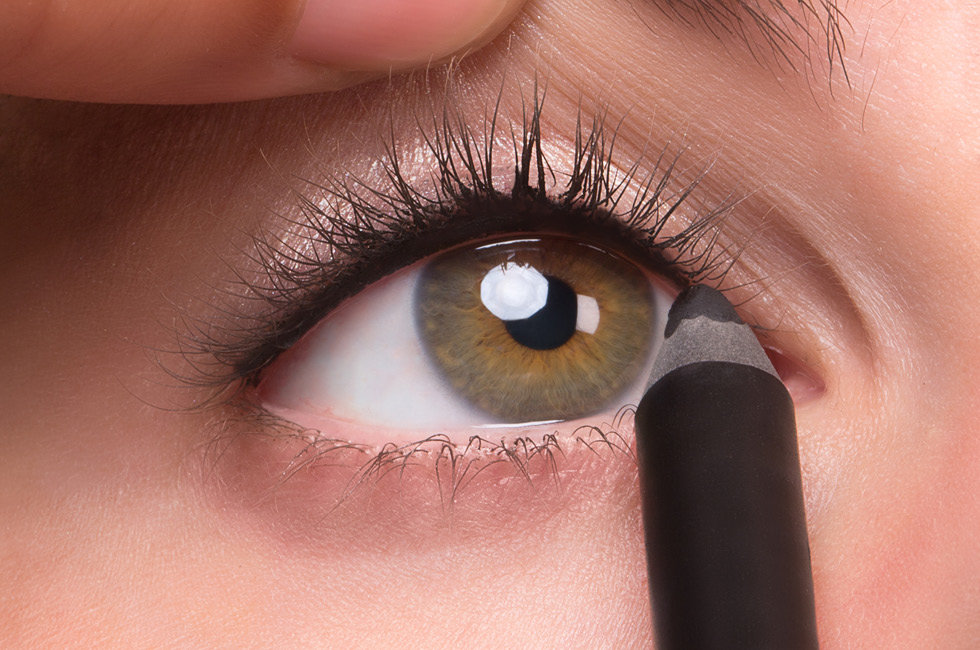 Also, sometimes I DON"T want to see a heavy liner but I want the eyes to pop, so this is what I do. I use waterproof mascara with a small, precise makeup brush. Dip the brush into the mascara and lift up the lid while your head is tilted up and you are looking down in the mirror. Tap the mascara in between your lashes to cover the tiny bits of skin between them. If you really want to go to town, you can use it to cover your upper waterline and try to keep your eye open until it dries so it doesn't transfer to your lower lid.
This technique is also referred to as tightlining and there are other products you can use. I, personally, hate pencils because wax smears when your body temperature heats it up. I avoid using pencils in general. Everyone has their own favourite products to use for this but make sure it's waterproof.