420 is coming and, for those who celebrate, I have found a couple of interesting options. Not everyone loves a big party, so I have tried to include options that are a bit more low key too. From Comedy shows to some stoner crafting, there is something for everyone.
Cannabis Comedy Festival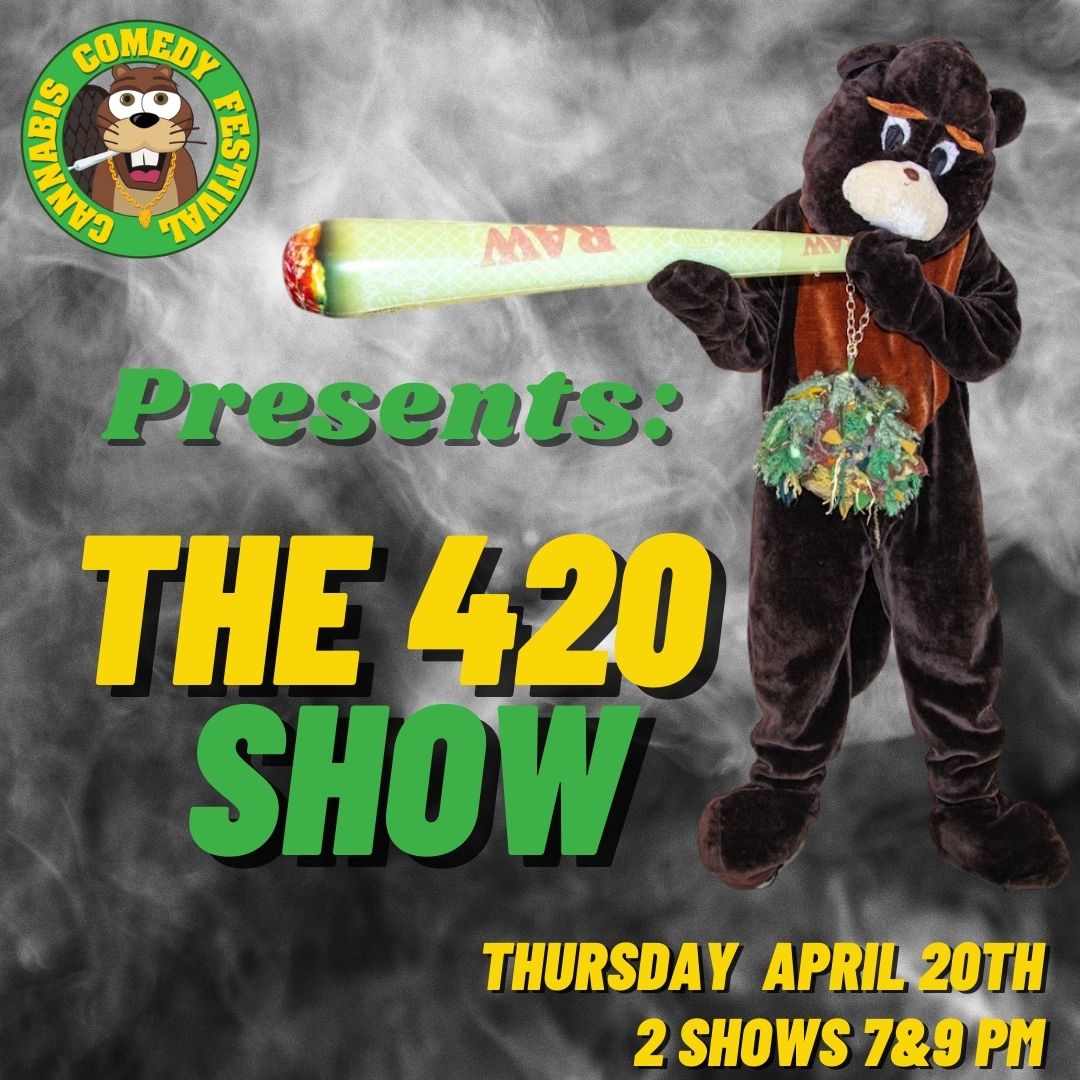 This is Toronto's only Legal Cannabis Consumption Comedy Show. Smoking is allowed inside the venue, and the ticket includes a Cannabis study where you can consume Free Cannabis during the show. The 420 shows will be at Mystic Tea House at 1775 Danforth Avenue. Hosted by Matt Render and headlined by Jarret Campbell, there will be plenty of giveaways and prizes
Tokyo Smoke 420 Celebration
Tokyo Smoke is hosting their second annual cannabis celebration on April 20th. Billed as the largest 4/20 celebration in Canada, this 19+ event celebrates cannabis culture. It will run from 3:30 to 10:30pam at RendezVous, 229 Richmond St W. Enjoy food, beverages, prizes, live music and more. Juno Award winning Dj and producer, Skratch Basitid will keep you dancing. Tickets can be purchased here and High Roller Club members are eligible for 50% off.
420 Craft Week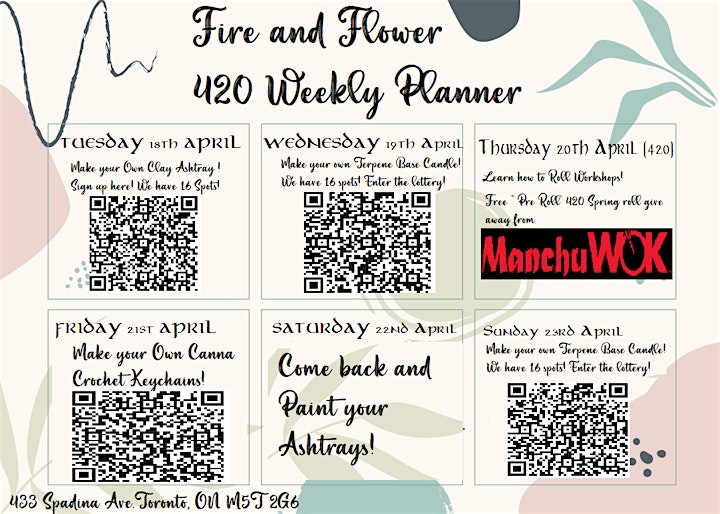 If you aren't interested in a big party, how about this fun craft series celebrating the week of 4 20. These craft sessions will be hosted at Fire and Flower – 433 Spadina. It's a bit confusing to navigate the site but click here to book for candle making on April 19 , Canna Crochet Key Chain on the 21st, 420 Ashtray on the 18th and candles again on the 23rd. On the actual day of April 20th, there will be free "how to roll" workshops and a giveaway from Manchu Wok.
Smokus Pokus
Smokus Pokus will be in Toronto for two shows on April 22.
This mind-blowing experience, starring 2-time Magic Champion Eric Leclerc, is packed with tricks so trippy that you'll be asking "what the f—?!".
Caricatures come to life, objects vanish and reappear in impossible places, minds are read, and both stoned and sober audience members love the magical high that is Smokus Pocus. Although you can't smoke in the venue, you are encouraged to arrive "high AF".
Blem
The Bitter Juice Collective and PARKINGLVL9 present "Blem", a night of herbal fun and lifted possibilities. Brought to you with sponsorship from DiversityTalk – enjoy a 4/20 celebration like no other!
With live musical performances, DJ entertainment, interactive games, giveaways throughout the night, and plenty of munchies – this is a must-attend night for all those lifted and lit!
Smoking inside the venue is permitted, and very limited tickets will be released for this event.
This is a 19+ private event where I.D will be checked thoroughly.
Early bird advanced tickets at $15
Very limited tickets at the door will be $20+
Doors@8PM, party until midnight!
Jokes and High Notes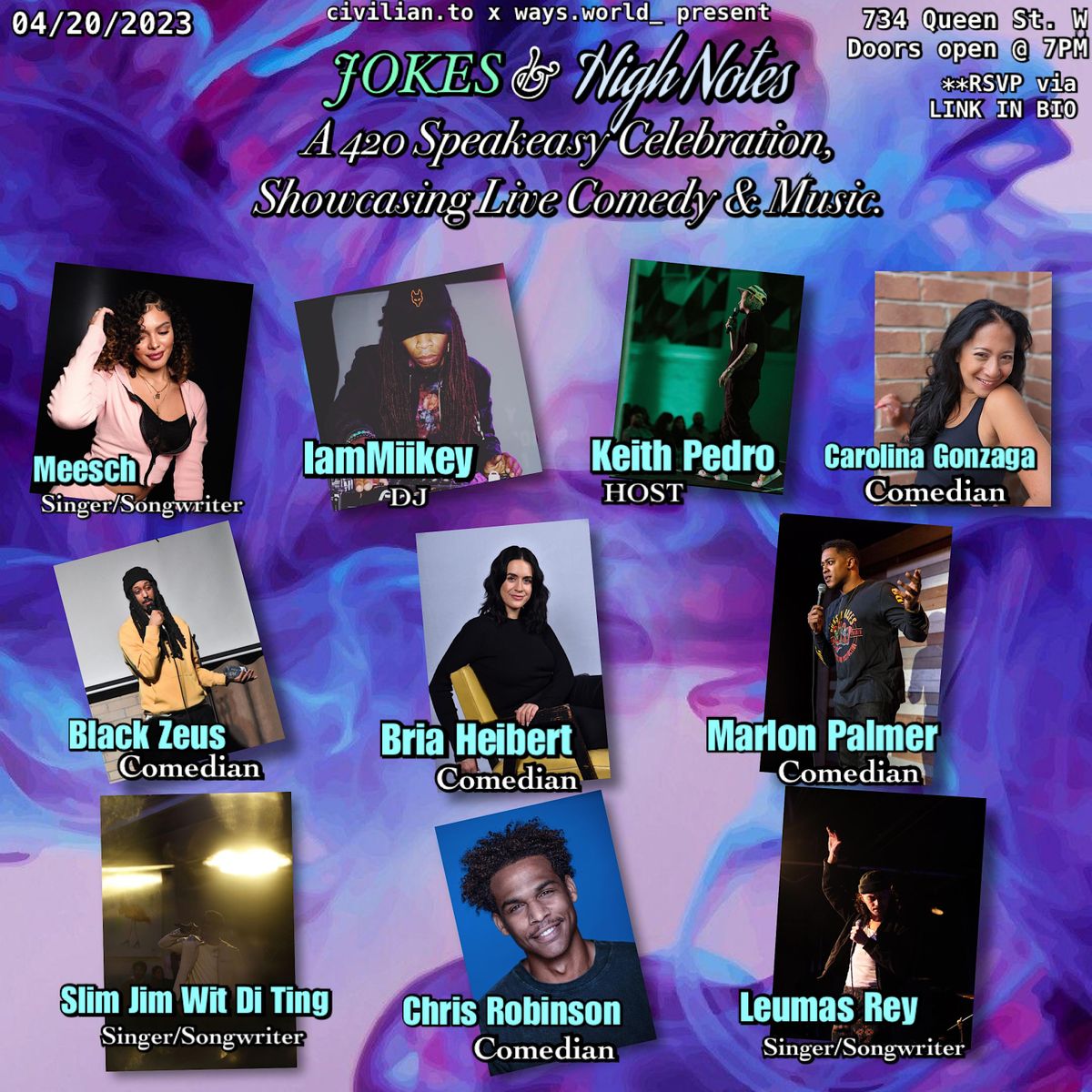 This speakeasy style event promises live music, comedy, giveaways and vendors. From 7:30pm to 9:30pm at Civilian House Of Cannabis, 734 Queen Street West, there is no word on whether consumption on site is allowed. TIckets can be purchased here and early birds get in for $24.99